Decking Options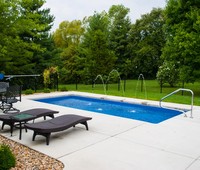 Swimming pools aren't just features with water in them. They serve a certain purpose and designing and installing various other elements is what adds to the functionality of the available space.
Features such as grottos, waterfalls, tanning shelves, seating walls, pool lights etc. are some of the elements that can be installed to create a leisure zone that will provide hours of fun and entertainment for your family. When you want a backyard oasis that's unique, functional and durable, you need to plan the space well and this is where our expertise comes into the picture.
We at Destination Pools are a company that has been operating in this industry for over 12 years. We cater to clients in Columbia, Dupo, Millstadt, and Waterloo and have constructed many poolscapes with multi-leveled decks on properties here.
Custom Pool Decks
We have handled a significant number of total-package pool remodeling projects in and around Fairview Heights, Belleville, and Freeburg. Our expertise in the field has also helped us build a solid customer base in O'Fallon, Mascoutah and Ballwin.
We have successfully completed a significant number of swimming pool decking projects throughout Collinsville, Edwardsville, Caseyville, and Maryville. We have also helped clients in St. Louis, and Chesterfield, and the surrounding areas get their residential pools in shape.
Pool Deck Planning Aspects to Consider
Constructing swimming pool decks is a lot about getting the engineering aspect right and making sure that the best and most resilient materials are used in the work. When we are designing swimming pool decks, and recommending materials, there are a number of aspects we keep in view such as:
Non-slip surfaces
Leveled, non-bumpy, non-coarse material
UV and heat-reflective material to keep the surfaces cooler during summertime
Materials resistant to mold, mildew, frost, chemicals, acid and algae
Permeability
Ease of maintenance
Durability
Custom Pool Deck Design
Our pool deck designers will have detailed discussions with you about the type of deck you want. They will also make sure that the 3D pool deck designs they provide are in line with your specific requirements.
Since we use 3D software in our work, you are able to get a visual of what the feature will look like once it has been installed. This also gives you the opportunity to make changes as required, before the project starts.
Pool Deck Materials
We always recommend materials that will be aesthetically appealing, hardy and durable, as this ensures the resilience and longevity of your pool and the surrounding spaces. The different pool deck materials you can choose from include:
Brushed/stamped concrete
Hand Seeded Pea Gravel
Deck Coating
Scoreline
Lime Coat
Pattern Concrete
Pavers
Natural stone such a flagstone, bluestone, slate etc.
Travertine
Tiles
Pool Deck Ideas
If you want a mix-and-match of materials, we can provide those solutions too. We are focused on providing top-quality solutions to our clients at very cost-effective pricing. Regardless of the size and style of the decking you need, we can tailor our services.
If you are looking for a company that would be able to provide all-round pool renovation solutions, feel free to contact Destination Pools at 618-281-7776 or send us an email  through this form. Our team will help you with all the information you need including pool rehab cost to help get you started on your project.
Belgard Pavers
We are a local dealer and authorized installation center for Belgard hardscapes.

Click on the images below to view a larger display.


Photo 10

Photo 11

Photo 12

Photo 13
Stamped Concrete
Belgard Pavers

|

Stamped Concrete

Click on the images below to view a larger display.


Photo 10
Cool Decking (colored and textured concrete surface)
Once applied it generates a colored, textured cement surface that is as strong as the base concrete. Settle for nothing less than the very best.
Significantly lowers the surface temperature of concrete.
Withstands thermal expansion and contraction better than concrete.
Proprietary mixture of natural substances and synthetic iron oxide pigments.
Scrub with soap and water to keep the surface looking great.

Belgard Pavers

|

Stamped Concrete

|

Cool Decking (colored and textured concrete surface)

Click on the images below to view a larger display.


Photo 10
Brushed Concrete
Belgard Pavers

|

Stamped Concrete

|

Cool Decking (colored and textured concrete surface)

|

Brushed Concrete

Click on the images below to view a larger display.


Photo 10
FAQ's about decking/patio options
Q: What is the advantage to Belgard pavers?
A: Different pavers have different shapes, textures, surfaces, colors and provide any number of different design ideas, from very modern to evoking the look of ancient Roman streets or the quaint and exquisite beauty of Europe hundreds of years ago. Additionally there are a vast number of patterns in which to lay the pavers. Belgard gives a lifetime manufacturer's warranty on the product itself. There is also a 3 year labor warranty and if you allow us to seal and clean them every 2 years that warranty will continue as long as you maintain the program.
Click Here To See Common Myths About Pavers.
Q: Which surface stays the coolest when it's in the sun all day?
A: Cool decking, brushed concrete, pavers and then stamped in that order.
Q: Which surface tends to be the most slick when it gets wet?
A: Stamped concrete is the slickest surface when wet.
Q: Which decking has the least cost?
A: Brushed concrete.
Q: Which surface is the best for coping around the pool?
A: Pavers, it is not slick and has a smoother surface so it does not snag swimming clothes or scratch skin .We use Belgard Bel-Air cap stone which creates a beautiful finish.
Q: Why choose pavers over concrete?
A: Concrete may crack and then you have to replace the entire slab. Pavers have a warranty and if 1 or 2 crack they are easily replaced to a like new finish.