Concrete Pools Waterloo, IL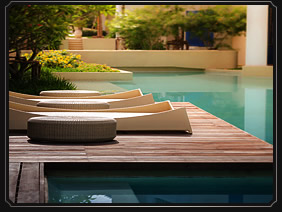 If you are looking for reliable designers and builders of concrete pools, contact Destination Pools today. We are an Illinois-based company that offers design and build services to clients in Waterloo, Fairview Heights, Columbia, and other cities in the state. Our decades of experience in this highly specialized field have made us the choice of most property owners in the areas we serve.
Our pools are designed and built by professionals with extensive pool installation experience. So if you really want to have gorgeous pools that can last a lifetime, hire us today. You may call our (618) 281-7776 hotline or visit our office so you can discuss with us your pool ideas and outdoor improvement plans.
Outstanding Concrete Pools
We are known in Waterloo, IL and surrounding areas for our beautiful pool creations. We can work on all types of pool materials, offer custom designs, and guarantee long-lasting pools. Our concrete pools, for example, are designed using the latest in computer technology to give clients a better idea about their pools' overall aesthetics before the construction starts. Our creations are also proven to last for decades without needing major repairs.
Clients can enjoy these benefits because of our outstanding workmanship and the quality of materials we use. Moreover, Destination Pools uses proven methods and techniques when installing pools for clients. Whether our task involves creating a small pool for a homeowner or installing an Olympic-sized swimming pool for a commercial property, clients will always get quality work. 
Efficient and Systematic Pool Creation
At Destination Pools, we follow systematic procedures and adopt time-tested techniques to make our work more efficient. This approach helps us create concrete pools that are not only beautiful but also sturdy. We never take shortcuts just to complete our projects on time. We know that a subpar work will not give us more clients in the future, so we always ensure that every detail of the project is properly followed and implemented. From consultation up to the final touches, you can expect a hassle-free pool installation.
Illinois' Concrete Pool Experts
We make sure that we have the best crews by hiring experienced and certified concrete pool builders. Each member of our installation team has lengthy experience in installing concrete pools in Waterloo and other key cities in Illinois. Our crews' experience is not limited only to residential pool construction. They also handle installation of custom-designed swimming pools for commercial and public properties.
One of our recommended pool types is the gunite or shotcrete. We have skilled people and appropriate equipment for this job so we can build a structurally sound and attractive gunite pool for you.
Complete Resources
Our primary aim at Destination Pools is to always provide outstanding services for Illinois clients. And to achieve this goal, we have put emphasis on manpower development, equipment acquisition, and product selection. We can handle large projects and complete them within schedules because of our complete tools and equipment. For example, we have the needed heavy equipment to do the grading and excavation tasks. In addition, our access to premium pool materials and partnerships with some of the leading pool suppliers allow us to create long-lasting concrete pools. 

Let us transform your outdoor space into a beautiful sanctuary where you can have fun and great memories with your family, friends, or guests. Call the experts in concrete pools today at (618) 281-7776.