Pool Remodeling Fairview Heights, IL<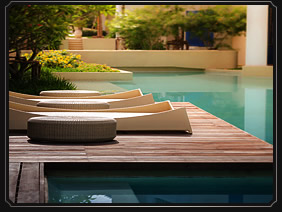 Pool remodeling is needed in three instances. First is when the existing design or the theme is already outdated and appears like a sore thumb in the landscape. Another instance is when the pool's size can no longer accommodate the number of people wanting to take a dip. And then another is when there are already missing or damaged parts that diminish the safety and functionality of the pool.
At Destination Pools, we can address all these issues since we specialize in pool remodeling tasks. We have remodeled countless pools in select Illinois locations, particularly Fairview Heights, Columbia, and Waterloo. From redesigning to the actual remodeling, we make it a point to put each client's preferences in mind so we never stray away from the expected outcomes. Our adherence to clients' desires has been the biggest reason why we're always successful in performing remodeling jobs.
Call us today for more information about our remodeling services.
Decades of Experience in Pool Remodeling
We have been in the pool remodeling and construction business for decades. We have completed numerous projects in the areas we cover, including Fairview Heights, IL. Accordingly, we have the expertise required to handle highly challenging projects that require extensive logistics and superb skills. Our designers and remodelers work closely with clients all throughout the project to communicate the progress and to address issues at once. This workflow has worked wonders for us and made our clients happy with their vastly improved pools.
Our Recommended Pool Add-ons
There are common add-ons that we consider when doing a pool remodeling job to enhance functionality, aesthetics, and safety. These are:
Pool covers. If you have small kids who love to wander around your home, then you should strongly consider having pool covers installed.
Chemical controllers. These add-ons improve pool sanitation since they regulate the pH and chlorine levels in pools. You can also expect savings since the release of chemicals into the pool are controlled at all times.
Pool coping. A great way to improve both safety and aesthetics is through attractive pool copings. You can choose from our wide design choices or we can just pick the right coping design for you.
Diving board. Do you want to spruce up your pool a little bit? Then why not have a diving board installed?
Submersible lighting. Your pool will surely look amazing at night with submersible lighting. We have crews who can install the perfect lighting fixtures to make your pool a sight to behold when night falls.
New and Modern Equipment
Aside from those enumerated above, there are other outstanding improvements to your pool. Among the equipment that we can install are variable speed pumps, automation controls, salt chlorine generators, automatic solid safety covers, and filters. We have installed modern pool equipment in countless pools across Fairview Heights and nearby locations. Based on our clients' feedback, such add-ons did improve their pools' safety, aesthetics, and maintenance program.
Affordable Pool Remodeling Service
We offer our pool remodeling services at competitive rates that clients like you can afford without a problem. While our work quality screams premium, our rates do not. So don't worry if you have a small working budget; we'll try to find a point of compromise just to serve you.
Call us at (618) 281-7776 and let us breathe new life into your old pool.