Pool Rehab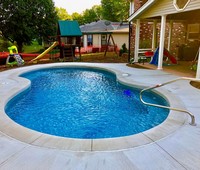 Swimming pools tend to see a significant amount of wear and tear over time. The UV rays of the sun, chlorine in the water, calcium buildup, stained or damaged tiles, failure of tile adhesive or deterioration in the other features can cause your pool to look dull and dated before its time.
Residential Pool Rehab
With the busy schedules you maintain, it can become quite difficult to maintain the swimming pool to the standards you would like to. If you feel that your pool could benefit from a makeover, we are the company to call.
Destination Pools is a company that has been operating in this industry for over 12 years. We cater to clients in Columbia, Dupo, Millstadt, and Waterloo. We have handled a significant number of total-package pool remodeling projects in and around Fairview Heights, Belleville, and Freeburg.
Our expertise in the field has also helped us build a solid customer base in O'Fallon, Mascoutah and Ballwin. We have successfully completed a significant number of swimming pool rehab projects throughout Collinsville, Edwardsville, Caseyville, and Maryville.
Range of Pool Makeover Services
We have also helped clients in St. Louis, and Chesterfield, and the surrounding areas get their residential pools in shape. When it comes to pool rehab and repair there are a number of different services we offer including:
Pool Tile Cleaning
Pool repairs
Mastic removal
Acid wash
Equipment repairs and replacement
Coping repair and replacement
Addition of new features
ResoCoat Finish
In addition to all the services mentioned above, we also provide a thermal polymeric finish for shorcrete, gunite, concrete, panel (vinyl liner), and fiberglass pools. This coating provides a very smooth finish and seals the pool, making the feature 100% waterproof. Pool plaster waterproofing doesn't provide the same effect and conditioning that ResoCoat offers. The latter is PH neutral. This makes balancing the pool water chemistry less challenging.
Custom Swimming Pool Rehab Services
Regardless of whether you want to remove stains and buildups from tiles or clean tiles without draining the pool, we can provide the best services. You can use your pool the very next day. While our team handles complete pool remodeling, we also have the ability to repair and renovate poolscapes.

This means you only have to deal with one contractor for all these related services. Not only does it save you a significant amount of time and trouble in dealing with multiple contractors, but you can rest assured that the work will be completed to the highest standards. We use the best quality materials and technology in our work, ensuring that your pool and its surrounds will be strong and durable.

For any big or small pool rehab jobs, we are the company to call. We provide all-round pool renovation solutions, feel free to contact Destination Pools at 618-281-7776 or send us an email through this form. Our team will help you with all the information you need including pool rehab cost to help get you started on your project.