Fences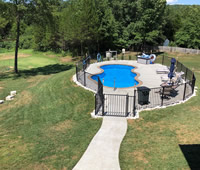 Landscape and pool spaces add beauty and functionality to your property. In addition to making sure that they are designed and installed well, you also need to make sure that these areas are safe for use. Most homeowners prefer to get fencing installed along the periphery of their property.
Pool areas too can benefit from the installation of these features. Since the outdoor spaces of your home are constantly exposed to the elements, it's important to make sure that all the features here are installed with care using exterior-grade materials.
We at Destination Pools are a company that has been operating in this industry for over 12 years. In addition to installation, repair and rehab of pools, we also provide a variety of other services including pool fence installations. We cater to clients in Columbia, Dupo, Millstadt, and Waterloo.
Custom Designed Residential Fences
We have handled a significant number of total-package pool remodeling projects in and around Fairview Heights, Belleville, and Freeburg. These have included everything from poolscape design to fence installations. Our expertise in the field has also helped us build a solid customer base in O'Fallon, Mascoutah and Ballwin.
We have successfully completed a significant number of yard fence design and installation projects throughout Collinsville, Edwardsville, Caseyville, and Maryville. Our team has also helped clients in St. Louis, and Chesterfield, and the surrounding areas with garden fence design and planning solutions.
Types of Fencing Materials
We recognize that every property owner wants their landscape to look stunning and unique. It's why we focus on customization. You can choose from fence materials such as:
Wood
Vinyl
Wrought Iron
Composite
Aluminum
Bamboo
PVC
Powder-Coated Stainless Steel
As you can see, there are a number of different fencing materials to choose from. Our team will work closely with you to understand what your ideas and preferences are. They will focus on providing solutions that meet your needs and fit your budget. As a custom-centric company our priority is to make sure that you are 100% satisfied with the services we provide.
Custom Pool Fence Designs
We use the best quality materials and workmanship in fence construction. You can also opt for combination material fences if you like. For example, many of our clients opt for half-height concrete or stone walls bordering their property. We install fences from this height up to create a unique and attractive feature that also provides the right level of safety.

We make sure that the powder-coating, paint, polish or other finishing is of the highest quality as this prevents early deterioration of the feature. Our experts can also design and build pool fencing if required.

You can rest assured that these structures will enhance the appeal of your yard, while demarcating the space beautifully. With us handling your residential fence installation project, you have the assurance that the feature will be stable, aesthetically appealing and durable as well.

If you are looking for a company that would be able to provide fencing services, feel free to contact Destination Pools at 618-281-7776 or send us an email through this form. Our team will help you with all the information you need including pool rehab cost to help get you started on your project.

Aluminum Fencing

|

Vinyl Fencing

|

Wood Fencing

Click on the images below to view a larger display.


Photo 1

Photo 2

Photo 3

Photo 4

Photo 5

Photo 6

Photo 7

Photo 8