Pool Construction and Design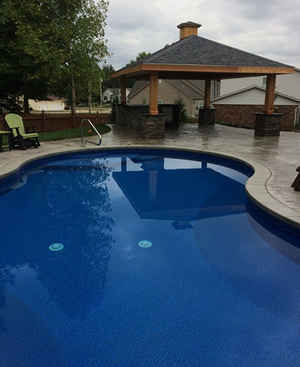 Destination Pools is a family owned business that specializes in Pool Construction and Pool Design services throughout Columbia, Illinois and surrounding areas. With humble beginnings that started back in 2007, we pride ourselves on providing the highest quality pool design and installation products and services for the most astute homeowners.
Whether you are looking to transform your backyard into an oasis or just looking to cool down in the Summer, we can design and install the most suitable and affordable swimming pool or outdoor living area. From concrete pools, vinyl pools, fiberglass pools and spas, to outdoor kitchens and pergolas, we have the knowledge and expertise to deliver a first rate project, every time.
POOL CONSTRUCTION
Our construction process represents the highest standards in material and craftsmanship within the pool and spa industry. All aspects of our pools, spas, water features and other structures are engineered for long-term efficiency, ease of operation, and structural integrity. The process on any of our construction projects is very systematic. Each step happens in a particular order. And with each step of the process team members perform detailed quality control checks and balances to ensure nothing but the best.
POOL DESIGN
The backyard is no longer a place to just throw the ball around. It has become an extension of the home in architecture and flow. This outdoor living space is used as a Destination, a getaway, a place to connect with family and friends. We create unique designs to fit your family's needs and projects that integrate the home. Stepping from your home into this new outdoor living space will include architecture, layout, and function making a seamless transition.