Concrete Pools
Fulfilling your needs and building your dreams is what we strive for each and every day. Gunite pools are one of the top choices for our homeowners, due to their beauty, versatility and durability. Plaster finishes come in an array of shades to coordinate with the pool decking you choose. Other finishes can be created from pebbles or glass for a truly unique, high end look in your swimming pool. Communication is at the top of our list of goals for all of our projects. The process of building a swimming pool is very systematic. Each step happens in a particular order.  Below you will find this process outlined to help you understand our process.
Consultation
This is where you will convey your ideas to our designers and seek out all the different possibilities for your project. We will listen carefully to your needs and wants while using our experience and knowledge to provide a design that is not only functional but has the design flow and feel that seperates us from other builders. After taking pictures and measurements of the proposed space, we will get to work providing a quote and 3D layout. Our designers are industry leaders, winning design awards year after year, using the most advanced 3D technology available.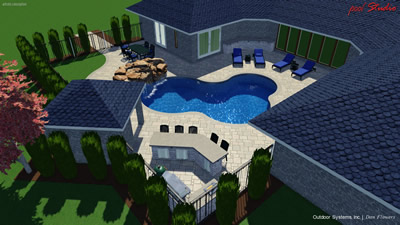 Lay out/ Permit/Job Setup
Once your design has been confirmed and cost of construction agreed upon, we can paint the layout of your pool on top of lawn using marking paint. This will give you a good visual representation of the pool size and location. We will then begin the process of permit application and approval through any and all governmental agencies. Your project is now well on its way.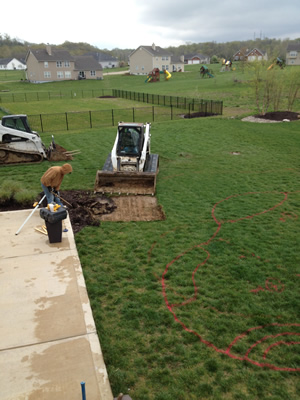 Excavation
At this stage of the process a great amount of excitement will start to grow. This is the first time you will physically see your project take shape.  Equipment will be used to excavate soil and pile it or stage it to be hauled off.  The kids really enjoy this step in the process!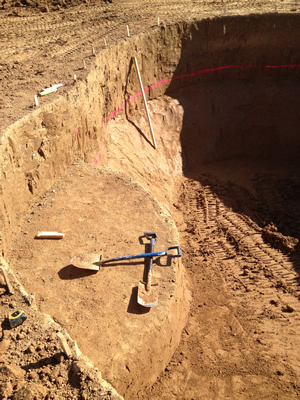 Steel/Plumbing
Once the excavation is complete, our team will start roughing the plumbing and electric raceways. At the same time the steel rebar will be laid and set in place by hand, forming the basic shape of your pool. All of the steel rebar is set using mechanical wrapping tools to unsure a solid base structure. As with all of our pools, no flex plumbing will be used, each pool has its own unique water hydraulic requirements.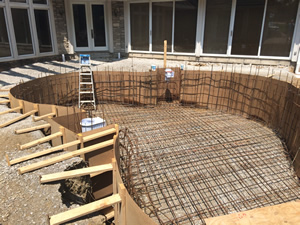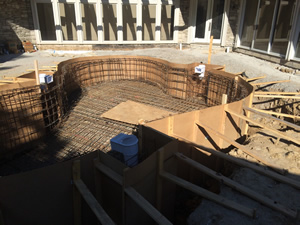 Equipment Set
At this point, the equipment that was chosen for your project will be set on the concrete pad and plumbed in to the lines that run to and from the pool completing the plumbing system. The entire system will then undergo pressure testing to unsure all joints have been properly joined and no leaks are present.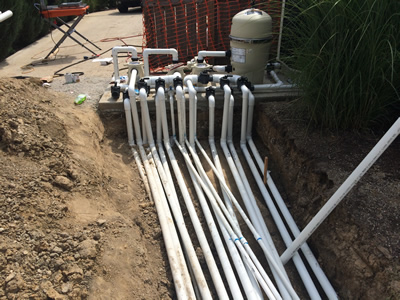 CONCRETE SHELL
The pool shell will be installed using 1 of 3 processes used in the construction industry. "Shotcrete" pneumatically applied wet mix, "Gunite" a pneumatically applied dry mix, or a monolithic structural concrete shell using new form technology. Each type of process gives you the same result, but site conditions, access, and timing help form the decision of which process. Once the shell is poured/shot your pool shape is now has the curves, steps, stairs, and benches clearly visible.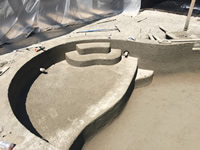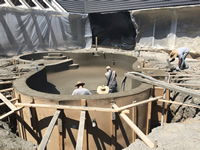 Tile, Coping & DeCK
Our masons will begin installing the stone or brick to your waters edge. Each stone selected for your coping is thoroughly inspected to ensure the highest quality. The alternative to brick and stone would be a poured in place concrete coping that is poured at the same time as your pool deck. Decorative tile will be placed just under the coping at the water line. We can now set our outside forms for your pool deck and pour the concrete. Many different types of concrete finishes are available to our customers. Ask our designers about the cost comparisons between broom finish, exposed aggregate, stamped, and salt stamped concrete. Other choices include Low temperature surfaces and segmental pavers for complete customization.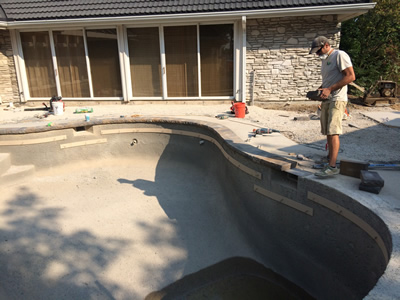 Plaster
The moment you have been waiting for has arrived! The plaster will now be installed. As soon as the installation is complete, you will begin to see your pool filling up with water. The plaster finish will determine the next step, but from here you can be swimming in approximately 3 days.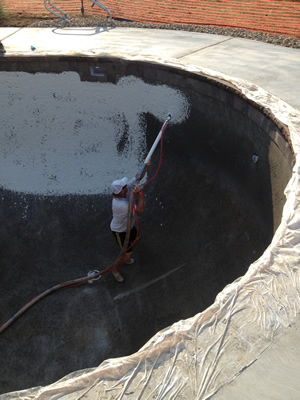 Startup
Your pool is full of water, pool deck is complete, and you are now ready for equipment start up. The pump is primed, turned on, and we proceed to check normal operation of the equipment. We will then clean the pool from any construction debris, dirt, etc. One of our advanced service technicians will spend a couple of hours going over the entire operation of your new in ground swimming pool. We will teach you the different techniques of normal operation, cleaning, water chemistry basics, and helpful tricks to save you time and money. Don't be scared! Our service techs make this instructional time fun and easy!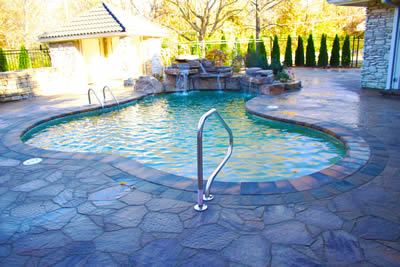 Pool Install Sunset Hills, MO