Pool Upgrades
Do you have equipment that is 10 years old? Is your pool 20 years old and you're still limping on your original equipment? It might be time to think about upgrading that equipment.  Today's pumps, filters, automation, lights, covers, and sanitation systems are on the cutting edge of technology and energy efficiency. Each of these system components are the life blood of your swimming experience, the proper function will ensure the safest aquatic environment.
Pumps
IntelliFlo VS+SVRS Variable Speed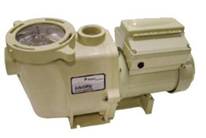 IntelliFlo Variable Speed pumps combine variable drive technology, onboard digital intelligence, and permanent magnet motors (used in hybrid cars) to reduce pump-related energy costs by up to 90%. The new IntelliFlo VS+SVRS model is the first swimming pool pump to feature a built-in Safety Vacuum Release System that detects drain blockage and automatically shuts the pump off. Standard pool pumps can consume as much energy as all other home appliances combined, often costing residential pool owners more than $1,000 per year! IntelliFlo pumps can typically cut energy use up to 90%, generally saving up to $1,500 in utility costs annually.
SuperFlo VS Pump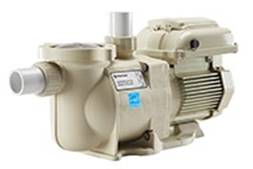 SuperFlo VS pumps slash energy costs by up to 80%, compared to conventional pool pumps. They come to you from the company that launched variable speed technology years ahead of every other pool pump manufacturer. With premium features like a 24-hour real-time clock and an intuitive interface that displays watts and RPMs, they're easy to program and operate. With the SuperFlo VS pump, you don't need to spend a fortune to enjoy big savings on your utility bill, it's affordable for new and standard pump replacement applications.
Automation
With today's technology advancements isn't it time for your pool to take advantage too!  With automation you can put your pool on cruise control, sit back and relax. With automated control systems, scheduling and operating your filtration cycles, heating, pool and landscape lighting, sanitizing, waterfalls and fountains all will be blissfully automatic. System controllers and remote controls have been designed to be push-button simple or make adjustments straight from your phone.  Be the envy of your friends and blow them a way with a SMART pool.
EasyTouch
Do you have a light switch that turns on your pump? Do you flip another to turn on your light? Does your system run 24/7 or until you walk out and turn it off? The EasyTouch Control System offers a new level of control at an affordable, easy to use pool/spa control system. EasyTouch allows full control of all pool/spa features including advanced features such as colored lighting and IntelliChlor Salt Chlorine Generator support. Every EasyTouch system includes an easy to use control panel that is built into the outdoor enclosure. This control panel allows for full system setup, programmability, and everyday operation.
IntelliChem
It can be a challenge to keep the pH and chlorine levels of your pool in constant balance, rather than cycling up and down. The IntelliChem chemical controller does it automatically by monitoring your pool's pH and sanitizer levels, and delivering just the right amount of chemicals. IntelliChem uses the same technology found in commercial installations, water parks, hotel and community pools. It can work independently, or together with automation products - so you can check your water chemistry at at glance.
IntelliChlor

IntelliChlor Salt Chlorine Generator uses common table salt to produce all the chlorine a pool needs, safely, effectively, and automatically. Same sanitation performance as manual chlorine addition without the drawbacks. No need for customers to buy, transport and store chlorine compounds.
Lighting
Pool, spa, and landscape lighting system options can turn pleasant poolside evenings into magical nights in your backyard wonderland. A new lighting system can offer reliability and energy-efficiency over that old system or shine some light on your current dark space. Choose from dazzling color-changing lights as well as standard incandescent and halogen lighting for underwater effects, and landscape. LED lights use 18% less energy than traditional lights and in most cases are brighter, too.
Covers
Covers are the best way to secure your pool when not in use. No parent can be watching over a pool 100% of the time. No fence or alarm can prevent a child or pet from getting access to an unsupervised pool. Weather you prefer a durable mesh, solid, or automatic safety cover that can be removed with the push of a button, we can help safe guard your most precious investments. Let our Technicians come and take precise measurements to design a cover unique to your pool.
Mesh and solid Safety covers
Whether mesh or solid these covers are a great option for covering your pool for extended periods of time. They use strong sticking, webbing, and anchoring to provide the safety that you demand. Covers are designed for maximum drainage and superior strength to give you peace of mind. Solid covers that block 100% of sunlight prevent algae growth. Mesh covers are strong yet weigh a fraction of a solid cover. Mesh or solid are available in a variety of colors so even when your not using your pool it will lend itself to the backyard design.
Automatic covers 
With the flip of a switch automatic covers provide everyday protection for your family at the push of a button. These covers create a barrier over your pool that no child or pet can penetrate with day in and day out reliability you can count on.  Not only are these a great way to keep your family safe, but they can help heat your water, reduce evaporation, maintain a clean pool by keeping debris out, and reduce chemical consumption.