Fiberglass Pools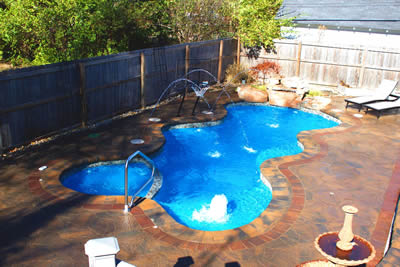 Over the years, fiberglass swimming pools have become a significant trend, and there are many different reasons for this.  Not only is this material extraordinarily resilient and versatile but will also last for several years. Companies like Destination Pools offer high-grade fiberglass pool design and installation services. They customize their solutions so that you always get the type of feature you want and need.
They have vast experience in the industry and handle projects for clients in and around Columbia, Waterloo, and St. Louis. They also cater to clients throughout Oakville Sunset Hills and Fenton, as well as Kirkwood and Webster Groves. Their expertise has earned them a solid reputation and impressive customer base in Millstadt and Edwardsville as well.
Benefits of Fiberglass Pools
Low Maintenance
Fiberglass pools are extremely easy to maintain in comparison to concrete swimming pools.  On average, you won't spend more than 45 minutes each week, maintaining this feature so that you have clear, clean, and attractive looking water.
More Gentle On The Feet
Concrete swimming pools can cause sore feet, especially if you are playing something like volleyball in them for a more extended period. Compared to that, fiberglass has very smooth surfaces, and you don't really have to worry about the soles of your feet getting hurt while you are in the water. Aside from this, there is no roughness in the surfaces, so your fiberglass pool will not have any algae growth.
No Worries About Relining The Pool
If you opt for a vinyl pool, you would have to get the liner are replaced within a matter of 7 to 12 years or even before that.  Concrete pools would require an occasional acid wash, and you may also need to resurface the pool after 15 years. This can prove to be quite an expense for you.  You never have to worry about all of these things you have a fiberglass pool.
In addition to all of these benefits, a fiberglass pool will also work very well with a salt chlorine generator, and the installation of the feature is straightforward as well.  This means you will have a great residential swimming pool within the shortest duration.
Hire Expert Swimming Pool Installers
As you can see, there are several benefits to opting for fiberglass pools, but you also need to make sure that the professionals you hire for the job have the experience and skills to handle the job perfectly.
Getting a new pool installed is an important decision and its best to hire proven experts like the ones at Destination Pools, for this job. They would be able to provide you with all the information you need about the different options to choose from and will handle the fiberglass pool installation job to industry standards.
MORE ARTICLES