ResoCoat Lifetime Pool Finish
ResoCoat
ResoCoat can be applied to ANY surface or any pool.
ResoCoat is the premier pool finish that can be applied to any pool structure.  It is an engineered polymeric finish, that was first created and used by NASA on parts of the space shuttle because of its durability.  This thermal polymeric finish can be used on concrete pools (both gunite or shotcrete pools), fiberglass pools, and inground panel pools (pools that would typically use a vinyl liner).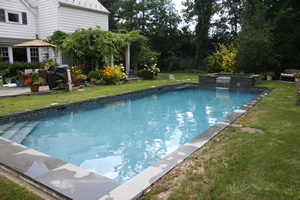 Using ResoCoat on Concrete pools
Concrete pools (both gunite or shotcrete) have traditionally been surfaced with a plaster finish using marble dust, white marcite, diamond brite, a pebble (such as pebble tec), or a glass bead.  While all of these finishes have their pros and cons, none have as many upsides as ResoCoat.  ResoCoat, while being extremely smooth, can also seal the pool making it 100% waterproof.  No plaster manufacturer or installer can confirm waterproofing a pool with plaster.  All plaster is porous and needs water saturation in order to cure, and therefore cannot be considered waterproof.  ResoCoat is PH neutral which makes balancing your water chemistry very easy to do.  Once applied, you can fill pool the same day and swim immediately.  Pools that are plastered take 30 days to cure and are normally highly acidic in order to cure the plaster.  This makes swimming unsafe for the first couple of weeks after plastering.  The standard 8 colors offered by ResoCoat will cost the same, no additional cost from one color to the other.  Plaster finishes will differ drastically from color to color, as well as different types.
Using ResoCoat on Fiberglass pools
Fiberglass pools are made with a color and gel coat at the factory and come installed to be maintenance and hassle free.  Destination Pools installs San Juan fiberglass pools.  These fiberglass shells are the highest quality on the market.  Many competing manufacturers of fiberglass pools build their shells using a very quick method of production.  This can lead to structural issues, such as cracking or bubbling that can lead to leaks.   It can also lead to hazing or discoloration.   In this event most homeowners feel nothing can be done to improve the performance or look of their fiberglass shell.  ResoCoat can seal the pool, cover any cracks, and bring new life to inferior products.  Best of all ResoCoat can seal off the structure making the pool waterproof once again.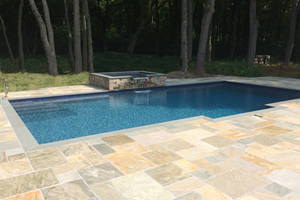 Using ResoCoat on Inground panel pools
Inground panel pools have made pool ownership possible to the masses.  The biggest issue with the panel pools has always been the vinyl liner.  Vinyl liners are susceptible to rips and tears, as well as  fading.  The biggest issue with liners comes with the cost.  Although the liners are the cheapest to install,  most have to be replaced every 8-12 years, and that is without any tears or leaks over that amount of time.  Replacement costs of Vinyl liners can be $4000.00 - $6000.00 each time the liner is replaced, not to mention any maintenance or tears along the way.    ResoCoat can be applied to any surface, steel, polymer, and concrete.  This eliminates the vinyl liner altogether.
Storms can sometimes toss things into a pool, such as lawn furniture or table umbrellas.  I have heard multiple times from pool customers of all types, that unfortunately have had to pull furniture or umbrellas out of their pool that were thrown in by the wind or even teenagers.   Those objects had damaged the plaster, fiberglass and vinyl liner.  Any patch or repair made on these three would be visible from that day.  ResoCoat is spot repairable.  This means that 3 days, 3 years, or 20 years down the road, a certified ResoCoat applicator can do a spot repair that will match the existing surface 100%.  This is not possible with plaster, fiberglass repair, or vinyl liners.
Destination Pools also offers a lifetime warranty package add on, that will warranty your ResoCoat finish for the lifetime of your pool ownership, non transferable.  This is the best warranty coverage of its kind, available to the public.