Pool Services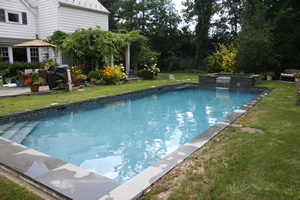 Companies like Dell Pools offer a wide range of services in different areas of NJ like Hawthorne, Paramus, Paterson, Westwood, Midland Park, Fair Lawn, Franklin Lakes, Ridgewood, Wyckoff, and Oakland.
Different Pool Services
Pool service providers can help with a number of different concerns. They understand how swimming pools work and what kind of problems these installations are likely to develop. Here's a brief look at some of these services:
1. Swimming Pool Design
Pool design is one of the most important aspects of an installation project. A structure that is designed well, can withstand the test of time. Professionals understand the importance of this step so they plan every aspect of a pool design carefully. Experts take factors like client preferences, location, property size, property architecture, future use, traffic, etc., into consideration before the design is finalized. Most installers will communicate with clients during this process, making sure everyone is on the same page.
2. Pool Leak Detection
Swimming pools endure a lot of hydrostatic pressure so leaks can happen. It's important to fix this problem quickly to ensure the structure isn't damaged by excess moisture. The common signs of pool leaks are visible cracks, air bubbles emerging from different locations, and excessive water loss. If you see these signs, contact a professional immediately to get the problem fixed. If these signs are ignored, they can cause more severe problems over time.
3. Pool Opening and Closing
A pool can't be left open throughout the year. Some seasons can cause more damage to it than others and leaving pools open can lead to higher maintenance or repair costs. However, pool closing and opening is a complicated process that's best left to professionals. Closing involves everything from winterizing pipes and adding a cover while opening involves removing the cover to testing water chemistry.
4. Pool Maintenance
Pool maintenance involves water testing, cleaning, carrying out small repairs, and making sure the structure is in good condition. Without regular maintenance, your pool will experience more problems. It will also have a shorter lifespan and you'll be forced to replace it sooner than needed.
5. Pool Supplies
Pools are complex structures with a number of different parts, all of which need to be replaced if damaged. A pool service provider will have spare parts like drains, gaskets, valves, plugs, etc. Regular in-house pool maintenance requires different tools and equipment as well, including oxidizers, sanitizers, algae products, liners, skimmer nets, etc.
A good swimming pool construction company like Dell Pools will make sure your pool is always in good shape and ready for use. It's important to hire a reliable company for these services because you will have a long-term relationship with them.
MORE ARTICLES